Tomb Raider: The Angel Of Darkness
~ The
Audiobook Adaptation ~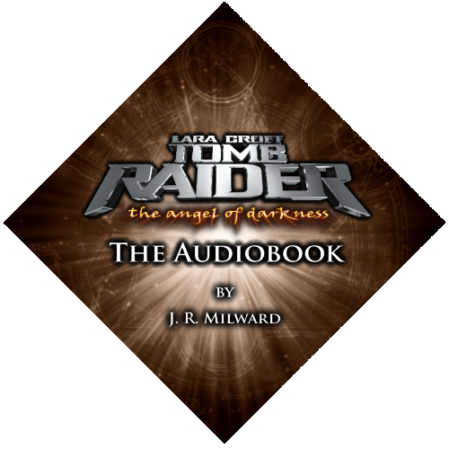 Written and adapted by J. R. Milward.
Based on an original story by A. Murti Schofield.
Produced by Stephen Milward.
With music and SFX by Peter Connelly and Martin Iveson.
Additional sound effects courtesy of www.freesfx.co.uk, the BBC, and the YouTube Audio Library.
J. R. Milward

Professor Werner Von Croy
Alexis (a friend of Kurtis in the Legion)
Special Guest Clark Kanulf

An ancient evil escapes from its centuries-long prison during an Allied advance in 1945.
A dark and stormy night in Paris, early March 2002, where Lara Croft is travelling to see her old friend, mentor, and sometime rival, Professor Werner Von Croy - much against her better judgement.
Finding herself on the run after the murder of her mentor, Lara must evade the Paris police and seek out Margot Carvier.
Finding herself a fugitive, Lara realises she must retrace Von Croy's final steps, and track down a notorious Parisian criminal, if she is to have any hope of solving his murder.
Following in Von Croy's footsteps, Lara meets with Louis Bouchard and formulates a plan to go after the mysterious Obscura Paintings.
Lara breaks into the world-famous Louvre Galleries, and the archaeological diggings beneath the foundations, in her quest for one of the Obscura Paintings.
Deep beneath the Louvre, Lara descends into the tomb of Brother Obscura in her quest for one of the Obscura Paintings.
Lara confronts Brother Obscura and escapes back to the Louvre.
Lara uncovers the secret hidden beneath the Obscura Painting and must escape the Louvre before others steal her prize.
Lara heads back to Von Croy's apartment in a desperate search for the Obscura Engravings.
Lara arrives in Prague in her quest to track down the fifth Obscura Engraving.
After finding the fifth Obscura Engraving and, with the help of a local reporter, Lara infiltrates the Strahov Fortress.
In her quest to access the Strahov's lower levels, Lara discovers that the Cabal have been importing ancient Turkish artefacts.
Having gained access to the Strahov's lower levels, Lara comes face to face with some of the Cabal's horrific experiments.
Lara explores the Bio-dome, eavesdrops on a meeting of the Cabal, and comes face to face with her mysterious stalker.
Having left Lara locked in the decontamination chamber, Kurtis Trent discovers that she has inadvertently set loose one of the Cabal's most dangerous experiments.
Alone in the bowels of the Strahov, Kurtis must track down and destroy the Proto-Nephilim before it escapes to the surface.
Lara and Kurtis form an alliance to destroy Eckhardt, with Lara going in search of the Vault of Trophies and the final Obscura Painting.
Lara braves the Vault of Trophies in her quest for the fifth and final Obscura Painting.
While Kurtis fights for his life against a monstrously mutated Boaz, Lara races to confront Eckhardt and stop him from awakening the Sleeper.
Deep in the bowels of the Strahov, Lara confronts Eckhardt in a final battle to prevent the Sleeper's awakening.

"
This transcends any other audiobook I've listened to... the combination of music, sound effects, brilliant writing and voice acting talent! It's a masterpiece!"
"
You did a truly, truly, TRULY amazing job with this audiobook, Jennifer! You do an amazing Lara Croft, and you bring her and her personality to life with every sentence. Your voice combines the old world sophistication and noble breeding that is Lara's aristocratic background with the sarcasm, wit and badassery that is the character we all know and love. You're like a well-balanced combination of Keeley Hawes and Jonell Elliot, and if I didn't know any better, I'd think that you were an officially sanctioned voice actor for the franchise. The audiobook was gripping, thrilling, suspenseful, intriguing, heart-stopping and each chapter always left me wanting more. The other voice actors also did a great job, and everyone played off of each other very well. I am also impressed how you fixed up all the plot holes as best as you could so that everything flowed seamlessly as possible. I really liked the inclusion of Putai and Horus communicating with Lara from time to time, and I also did like how you gave Lara an inner voice to talk with so that we can understand more of the inner conflict she has stemming from the events in Egypt. And the music from the game just made everything perfect an added to the suspense and excitement of a Tomb Raider experience. Your audiobook is a must-listen for any Tomb Raider fan, and I give you two big thumbs up!"
"
I can't believe this is the end. You took me on an amazing journey, allowing me to better understand and rediscover a lost childhood experience that I believed had long faded from memory. Never before have I seen Lara so human, so close, so easy to understand and feel sympathy for.
I am one of many who felt disappointment for the lack of sequels. Not once did I feel hate for the game or the story, however rushed or unfinished it might have been. It was special. Different. You captured that feeling and elevated it to new heights. This was a true Tomb Raider experience through and through, perhaps even more genuine than the games. Shamefully I confess I cried at the end.
You caught me off guard when you presented Karel, and even the Sleeper in a more understanding light, not just as evil entities who sought nothing but death, but lonely ageless creatures who sought nothing more than to survive, to live. And when Lara felt the rush of vengeance overtake her, and saw HERSELF as the Monstrum, wondering if SB would grant her the same mercy of a killing blow, I got shivers. And Eckhart, his soul so corroded by greed and malice, only a husk was left in the end. Lamentable really. If you ever write a sequel to this yourself, I would drop everything to read or listen to it. Thank you so so much. I pray you have your wishes and prayers answered!"
–
The Sullen Hypnotist (2021)